Weave,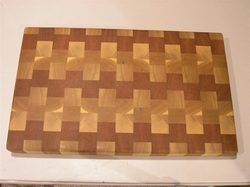 12-3/4" x 21", 1-7/8" Thick
Mahogany, Cherry and Hard Maple
One of my favorite boards because of the wonderful colors.

---
Bricks,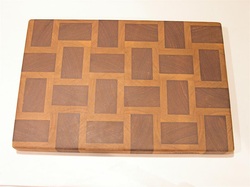 12" x 18", 1-9/16" Thick
Jatoba and Cherry
A nice, large board of Jatoba (commonly called Brazilian Cherry) and Georgia grown cherry.
---
Checkerboard,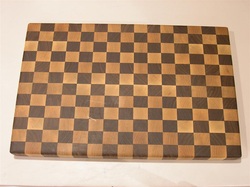 12-3/8" x 19", 1-1/2" Thick
Walnut and Hard Maple
This is a simple checker board pattern. The colors will go well with most kitchens.
---
USA - Monogrammed board, $159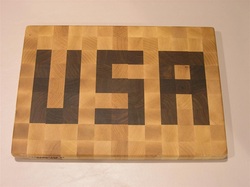 11-1/4" x 16-1/2", 1-1/2" Thick
Hard Maple and Walnut
The lettering in this board is not an inlay. The Walnut blocks making the letters go through the depth of the board.
Customized Boards AVAILABLE
I can create a custom board for you with 2, 3 or 4 block letters.
Block Letters: A B C E F G H I J L O P S T U Y
Email me with a request for your custom Monogrammed board. This are great gifts with a persons initials or acronyms of company names, etc. All boards will be 11-1/4" tall, width varies with letters. Prices vary based on letters.
PS. I am working on ways to provide all letters of the alphabet, Check back soon.
---
Weave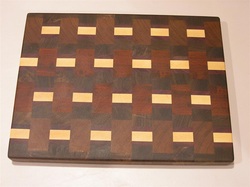 12-3/4" x 16-3/4", 1-5/8" Thick
Walnut, Jatoba, Padauk, Hard Maple, Purple Heart
A beautiful weave of 5 domestic and imported hardwoods.
---
Offset Handle Edge Grain Paddle Board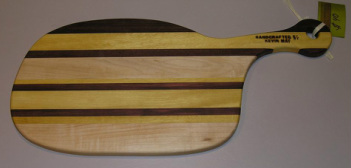 Approximately 10" x 20", 3/4" Thick
Beautiful mix of Black Walnut, Purple Heart, Hard Maple and Yellow Heart
---
Paddle Board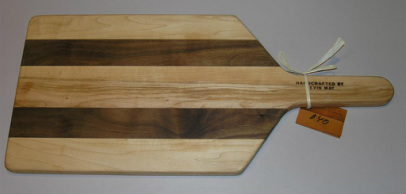 Approximately 11" x 21", 3/4" Thick
Center handle paddle board constructed of Hickory and Black Walnut.
---
Chevron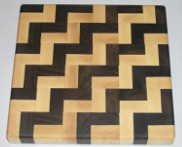 9" x 9", 1" Thick
Black Walnut and Hard Maple
I have sold more of this board than any others. It's just the right size to cut individual fruits and vegetables. Makes a wonderful gift for anyone.

---
Chevron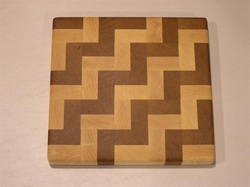 7-1/4" x 7-1/4", 1" Thick
Cherry and Hard Maple
Small board appropriate for cutting fruit. Great 'Bar Board'.
---
Blocks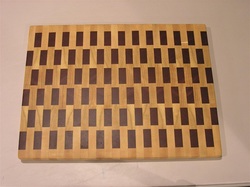 12-3/4" x 16-3/4", 1-1/8" Thick
Purple Heart and Hard Maple
---